Quick Ways to Clear Credit Card Debts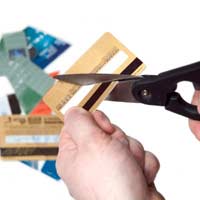 There are a few options available when looking for quick ways to clear credit card debts. If you have a high balance on your credit cards then you will know that the interest charges can soon mount up. Eliminating the interest charges or reducing them is one of the best ways to quickly clear credit card debts.
The Problem with Credit Cards
Credit card debt is one of the most expensive ways to borrow money and is the reason many people find themselves laden with debt. If you are looking to become debt free in the shortest time possible then credit card debts do need to be eliminated. Clearing off card balances by using another type of credit will not eliminate the problem but simply prolong it. Taking on extra credit will only add to the debt, so look for solid ways to clear off all credit balances.
Never Make Minimum Repayments
If you only ever make the minimum repayments to your credit card each month then you are likely to be saddled with this debt for years. Making minimum repayments means that you are basically only paying interest; only a very small amount goes towards clearing off the actual balance. Minimum repayments will also mean that the interest will start to compound quickly. You will begin to pay interest, and interest on the interest and so on. The quickest way to clear off credit cards is to pay as much as you can above the minimum repayment to reduce both spiraling interest charges and the actual balance.
Reduce the Annual Percentage Rate
Although taking on another credit card is not always the best way to reduce debt, it can help. Transferring your balance over to a card with a lower annual percentage rate (apr) than your present card should save you money in the long run. However, you should look for 0% apr on balance transfers for as long a period as possible; some cards are around 12 to 15 months. Do not use this as a method of racking up more debt, just starting making regular repayments and try to clear the balance.
Consolidating Debt
If your debts are spiraling out of control then debt consolidation could be an answer. Consolidating debt is not for everywhere and should really only be used as a last option. It should also only be used if the consolidation loan has a very low apr and the monthly payments are far less than all you present debt repayments put together. There are many debt consolidation companies on the market, and unfortunately not all of them are reputable. Look at all the pros and cons before considering any form of debt consolidation. Most lenders will ask for some form of security and this could mean using your home as a guarantee of repayment.
Get Rid of the Credit Cards
For some people getting rid of their credit cards is an unthinkable option. But many people live quite happily without credit cards and simply use debit cards instead. With debit cards you should be able to track your spending more easily as any payments come straight from your account. You can use debits cards to pay for goods online and in stores just as you would with a credit card. The temptation to buy now, pay later should be greatly reduced if you know that the money is coming straight from your account.
Transfer to an Overdraft
If you do not have a huge amount of credit card debt but find the interest is very high then transfer the balance to a low or zero interest overdraft. This will stop the interest charges on credit cards and give you some breathing space. By doing this you will also eliminate any late or missed payment fees to your credit cards, which soon adds to the interest charges. Remember, your next month's salary will usually pay back the overdraft so this may only be an option if you have a low credit card balance.
Interest is the biggest headache when it comes to credit card debts. One or two missed payments can soon see the interest accumulating rapidly. Drastically reducing the monthly interest payments by paying more than the minimum payment will help to clear credit card debts quickly. It may take a lot of willpower to resist the temptation to spend as you clear the debt but it will be worth it in the long run.
You might also like...