Clearing Christmas Debt Quickly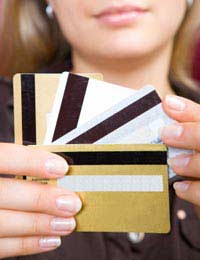 Christmas comes once a year but unfortunately some people are still trying to clear debts from the previous Christmas. Credit cards can take a severe hammering during the festive season and it's wise to clear those Christmas debts before the interest mounts up.
Pay The Most Expensive Credit Card First
If Christmas spending has been spread over a few credit cards then make sure to pay more to the card with the highest interest rate. If possible, try to clear the balance on the credit card with the highest interest rate before the interest free period kicks in. It is always wiser to keep any spending to the credit card with the lowest interest rates. Remember, store cards have notoriously high interest rates and should be cleared as quickly as possible.
Don't Miss Payments on Any Credit Cards
One sure way to see unwanted additions to a credit card balance is to miss a payment. Even one missed payment will see charges being applied and interest added. Not only will there be charges but missed payments can have a detrimental impact on a credit rating. Always at least make sure the minimum payment is made on all credit cards.
Pay More Than the Minimum Repayment to Credit Cards
Lenders love minimum repayment customers. Credit card customers who only ever make minimum repayments are simply extending the time it will take to clear the balance. This means of course that customers are paying a lot more in interest than those who clear their credit card balance quickly. The credit card value of those Christmas presents will be a lot higher than their actual value when only paying the minimum repayment.
Consider Transferring Credit Cards
Credit card customers who have over indulged with Christmas spending should consider transferring the balances to one low interest credit card. Transferring a number of balances may be possible for those with excellent credit records. Finding a low interest credit card has become harder to achieve but it is still possible. Shop around and look out for special interest free introductory offers when transferring balances.
Contact Credit Card Providers Regarding Transfers
Have a word with current credit card providers before the interest starts mounting on other existing credit cards. Certain credit card providers may be open to negotiations concerning transferring balances onto one card. Achieving a zero percent transfer might not be possible but they may be willing to arrange a lower interest rate when transferring balances. It is worth having a word and seeing which provider will be willing to give the lowest interest rate.
Do Not Consider More Loans to Ease Christmas Debts
Taking out more loans to pay off credit cards will not usually be a good idea. Customers who have already become heavily in debt will usually find that loans are available but they will come with hefty interest rates. Avoid doorstep lenders who are happy to supply credit check free loans but will apply massive interest rates. If a loan is the only solution then check all borrowing options and apply only to the lender with the lowest annual percentage rate (APR).
Pay Off Christmas Debts By Increasing Income
Taking on extra work may sound like the last thing anyone wants to do but it will help to clear those Christmas debts quickly. A few extra hours a week working at a new part-time job or in an existing job will add up at the end of the month. Use this money specifically to pay off Christmas debts and the risk of interest mounting up will be cut. The extra hours don't have to be permanent and once the debts are paid the working week can return to normal.
Start Saving For Next Christmas
The best way to eliminate Christmas credit card debt is not to spend on the credit cards in the first place. Saving specifically for Christmas doesn't need to start in January but a few months of squirreling money away before December will make all the difference. Many people join Christmas clubs as an easy way to save up for Christmas. Christmas clubs are available through credit unions, post offices and some supermarkets, and good discounts can be achieved as well as the actual money saved.
Christmas is the major credit card over spending time of the year. The festive period can leave thousands of people heavily in debt and paying massive amounts in interest fees. Clearing Christmas debts quickly should be a financial priority to ensure debts do not linger well into the coming year.
You might also like...