Arrange Your Own Debt Solution With Creditors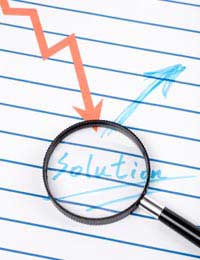 Arranging your own debt solution with creditors is one of the many options open to debtors. This can be done with the aid of debt help services or by contacting creditors directly.
The First Steps towards Arranging a Debt Solution
The first step of actually contacting creditors or seeking debt help is often the hardest for many debtors. As the threatening letters and phone calls from creditors escalate the easiest solution can appear to be avoiding all contact whatsoever. But many creditors are sympathetic towards people who have fallen into arrears. Reputable creditors will try their hardest to come to some form of repayment arrangement. The first step towards arranging a debt solution is to contact creditors, explain the problem and come to some form of arrangement.
The Benefits of Arranging a Debt Solution with Creditors
If the debt problem is dealt with early enough there are distinct benefits. Debtors who arrange a debt solution with creditors can avoid debt collectors being called in to deal with the matter. There can be a number of different ways to handle a debt problem without the need for debt collectors. A debt solution might not avoid a black mark on a credit reference but it can stop the issue dragging on for months or even years. Dealing with creditors as opposed to debt collectors will also mean the debtor does not have to pay the debt collector's fees.
Debt Help Agencies or Going It Alone
Choosing to use a debt help agency such as the Citizen's Advice or the Consumer Credit Counselling Service will have some benefits. These organisations are free to use and they will be experienced in dealing with debt problems. National debt help organisations will also know the wide range of debt solutions open to the debtor. Debt help agencies can contact creditors via telephone calls and letters on behalf of the debtor. There is nothing to stop debtors coming to their own debt solution with creditors but the choice of professional help is there.
Steps to Take Before Contacting Creditors
Debtors should sit down and make a financial record of all income and expenditure before contacting creditors. By doing so the debtor can see exactly where money is going and how much disposable income is left over. The main aim of coming to a financial arrangement with creditors is repay debts on an affordable scale. Debtors should also be ready to explain the reasons why they have fallen into arrears. This could be a drop in financial income or a rise in expenditure that has left them financially overstretched.
Debt Solutions Available for those in Arrears
There will usually be a number of different ways to deal with debt arrears. Creditors should be able to explain the options that are open to the debtor. Creditors may be willing to freeze interest on an account for a certain period of time. At the very least they should be open to allowing debtors to arrange a lower repayment scale over an extended period of time. Any debt solution that is arranged should always be confirmed in writing by the creditor.
Always Arrange an Affordable Repayment Plan
Many people who set up renegotiated repayment terms make the mistake of jumping at the first figure named by creditors. There is no point in arranging a repayment figure that is not realistic. A figure should be arranged that can be comfortably afforded by the debtor and will give some breathing space. An unrealistic figure will simply increase the likelihood of the debtor being unable to stick to the new repayment plan. Creditors should be open to negotiations rather than forcing a high figure that will simply leave the debtor struggling to make repayments.
Always Maintain a New Debt Arrangement
Another important aspect when arranging a new debt repayment schedule is to stick to the new arrangement. Debtors who think they may have problems keeping to the new arrangement at any time should inform their creditors. If a debtor cannot maintain the arrangement it may be that the repayment figure is too high and will have to be adjusted. Debtors who do not contact creditors when problems arise are simply placing themselves back to square one with their debt problems. Debtors should always contact creditors at the earliest point if non payment is apparent.
Anyone who has fears when contacting creditors should consider using the services of national debt help agencies. Organisations such as the Citizen's Advice deal with thousands of debtor problems on a daily basis. These organisations know the pressures that serious debts can bring. The first step towards eliminating debt problems can be the hardest but help is available when dealing with creditors and debt problems.
You might also like...