Rules to Follow to Become Debt Free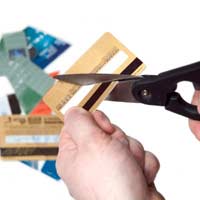 Becoming debt free is not usually an easy short term option. Certain sacrifices will be required on the part of the debtor and there are necessary rules to follow to become debt free.
Cutting Up those Credit Cards
Cutting up credit cards is often touted as one of the first rules to follow to become debt free. Cutting up credit cards may actually be compulsory for people with unmanageable debts. More than anything else, cutting up credit cards is a symbol of the debtor's determination to stop living on credit. It also eliminates the option to spend on the cards if the 'spending on unnecessary goods' impulse hits during shopping. Cutting up store cards and credit cards is quick and almost painless, and should bring some sense of relief.
Making Sacrifices to Eliminate Debts
Anyone who has become completely or almost debt free will know that sacrifices are required. Becoming debt free is not an easy task and can take many years. Those who are serious about becoming debt free should realise that purchases such as buying cars, holidays and frequent nights out will have to be eliminated. Cutting down on these sorts of large purchases is a necessity, usually for at least a few years. This does not mean living like a monk but expensive items which are not a priority should be eliminated.
Set Up a Debt Payment Schedule
It is a good idea to have all debts paid on the same day during the month. Ideally this should occur just after salaries have been paid into the bank. This will mean that all debt repayments will be taken as soon as the salary has landed into the bank. Spreading debt repayments out throughout the month means more chance of spending a salary and missing debt repayments. This can mean late or missed debt repayment penalty fees. Having a large amount of money taken as soon as the salary goes in will take some getting used to but is the best repayment option.
Consider Ways to Increase Income
Increasing income is one of the best ways to clear debts rapidly and earn some extra disposable income. A part time job could be the answer to reducing the financial stress that comes with clearing debts. Alternatives to part time work could be renting a room in the home to provide extra income. It doesn't take too much effort to earn some extra income through part-time work. Remember, this is only a temporary measure until debts have been significantly reduced.
Avoid the Quick Fix Debt Solutions
Don't be tempted into seeking help from debt help advisors who will charge for their services. There is basically nothing that debt advisors can do that debtors cannot do themselves without having to pay fees. There are plenty of debt help organisations such as the Citizens Advice and the Consumer Credit Counselling Service ready to help. These organisations can talk to creditors and should be able to arrange low repayment schedules without charging a penny. Paying for the help of a debt advisor will only add to debts not help eliminate them.
Going Debt Free Dos and Don'ts
There are some easy rules to follow when going debt free. Some easy to follow dos and don'ts will include:
Do cut down on household expenses especially when buying clothes and supermarket shopping
Don't miss any monthly repayments that will incur charges
Do consider cutting down on unnecessary services such as expensive cable television packages
Do look at ways to maximise income such as selling unwanted goods on internet auction sites
Don't be tempted to splurge on unnecessary items when shopping
Don't be tempted to use high interest loans as a way to make ends meet for a short period of time
Do set out a schedule to show how quickly debts are reducing as an incentive
Don't make excuses that spending a few hundred pounds on unnecessary items won't make a difference to reducing debts
Anyone who is considering taking the plunge into the debt free process should be aware of the necessary sacrifices. Relapses will no doubt occur but there is no need to feel guilty. Lining up some treats now and again is the best way to release the pressure that comes with this investment for the future. If the debt free rules are followed they should soon become second nature, and the end result could be a life without debt repayments.
You might also like...