Why You Shouldn't Pay for Debt Advice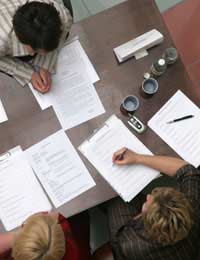 Paying for debt advice is simply throwing money away on advice that is free elsewhere. There is a wealth of debt advice available through charitable debt help organisations.
Never Pay For Debt Information and Advice
Debt is a serious problem in the UK and debt help organisations deal with 9,500 new debt problems each day. The debt problem in the UK has become a crisis that effect millions of people, many of whom face bankruptcy or home repossession. Debt organisations, many of which are run by charities, deal with thousands of borrowers who have no place else to turn. Certain debt help organisations are free to use and will not cost a penny.
The statistics on debt in the UK are shocking but not altogether surprising. A few debt statistics to consider are:
The Citizens Advice Bureau deals with 9,500 new debt problems ever day
A property in the UK is repossessed every 11.4 minutes
Someone in the UK is declared bankrupt or insolvent every 3.69 minutes
Personal debt in the UK in February 2010 hit a record high of £1.464 billion
UK borrowers pay £187 million in daily interest
The average household debt in the UK stands at £53,083
The average adult in the UK holds £4,658 worth of debt on credit cards, loans and store cards
The average UK household debts excluding mortgages are £8,920
Debt Help Companies Taking Advantage of Debtors
Unfortunately there will always be businesses that will take advantage of people looking for help. The internet, yellow pages and newspapers are full of debt 'help' organisations that will promise to wipe out all debts. These companies will usually make exaggerated claims designed to put the borrower's mind at ease. These so called debt help companies will charge a hefty fee for their advice and help. Nine times out of ten there is nothing that these companies can do that the debtor cannot do themselves.
Beware of Unlicensed Insolvency Practitioners
Any debtor who is considering bankruptcy or an Individual Voluntary Arrangement (IVA) will usually need the help of an Insolvency Practitioner (IP). A reliable IP will not charge for the advice and information needed to go ahead with a bankruptcy or IVA. But there are many debt advisors who will advertise IP services and charge for simply giving information. Always check that the Insolvency Practitioner is licensed. If at the first meeting they expect payment simply walk away and find a professional IP.
Don't Be Fooled By Exaggerated Debt Help Claims
Debtors who are in desperate need of help will often fall for reassuring claims made by disreputable debt advisors. Claims that all debt problems can be fixed without having to pay a penny are usually exaggerated. Even an IVA will require monthly payments, at a reduced rate, by the debtor. In most cases, debt advisors who charge fees will simply contact creditors requesting an arrangement. This can easily be undertaken by the debtor themselves or by a free debt help service without costing a penny.
Finding Free Debt Help and Advice
There are numerous debt help and advice organisations that will not charge a penny for their services. Organisations such as the Citizens Advice Bureau (CAB) and Consumer Credit Counselling Service (CCCS) are both charitable organisations. They employ qualified professional staff who will be able to help with a wide range of debt problems. Both of these organisations can contact creditors on behalf of debtors. These organisations should be the first point of call for anyone with debt problems.
Don't Face Debt Problems Alone
Debt does cause misery and stress for millions of UK borrowers. The fact of the matter is that solutions can be found to serious debt problems. The first step towards easing debt misery is to call or visit a debt help organisation such as the CAB or CCCS. Many debtors have a tendency to bury their heads and hope that the problem will simply vanish. Obtaining help from one of these organisations will immediately help to ease the worry and stress caused by debt.
Debtors in the UK are not alone and debt is a widespread serious problem. It is in the debtor's best interests to seek advice and information if they are suffering from debt problems. Free advice from professionals is readily available and debtors should avoid all debt help that comes with a fee attached.
You might also like...