Using a Debt Counselling Service For Debt Solutions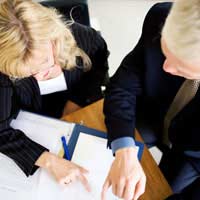 Debt counselling is a service providing help for those who are finding their debts hard to control. In Britain there are free debt counselling services available to the public such as the Consumer Credit Counselling Service, which is a registered charity designed to help people who are in financial difficulty.
Using a Debt Counselling Service
Anyone who is suffering from spiralling debts or finding their financial situation difficult to cope with can benefit from a debt counselling service. The counselling service will give debt advice and information, and will talk to creditors on your behalf. They will also explain the best options available to you depending on your financial circumstances.
A Typical Debt Counselling Scenario
Whether you contact a counselling service by telephone or in person the outcome will be to find a solution to your debt problems. They will start by taking a full inventory of your financial situation and then make a recommendation regarding your options.
One way a counselling service will ascertain your options is to prioritise your debts along with necessary living expenses and then see how much is left over. If there is enough to make some form of payment then the counselling service will contact creditors and explain the situation on your behalf.
Outcomes to Debt Problems
The findings of the financial review of your credit and debt problems will determine the options available to you. Creditors may be willing to accept greatly reduced payments, freeze interest on payments or stop charges being added. They may also accept proposals for repayments over a longer timescale. Often they will cut a large part of the overall payment and ask you to pay a reduced one time payment.
Other Services Offered
Debt counselling services also offer advice on financial budgeting, how to prioritise debts, and how to deal with financial problems. They will have dedicated staff that are trained to deal with the public's financial problems and are well aware of the term "debt addiction".
Benefits of Debt Counselling
Trained staff will be understanding of debt problems.
Many are non-profit organisations that will not charge fees.
They will speak to creditors on your behalf.
Can arrange debt management plans and workshops.
Should be able to arrange low repayment rates with creditors.
Debt Counsellors to Avoid
There are many organisations that promote themselves as debt counsellors but are in fact more interested in selling loans that helping those in debt. Many will offer debt consolidation as a quick fix to debt problems. Be very wary of any counselling service that offers this as a solution. In most cases the best way to get out of debt is not to take on anymore credit. Some of these consolidation remedies will still leave the debtor paying large repayments for years to come.
Also be wary of debt counselling services that charge monthly fees or asks for voluntary contributions; this is simply another term for fees. Never enrol in a counselling service that does not first make a full review of your financial situation and offer you a realistic solution. Also steer clear if the service requires a fee before any solution has been reached and offered from creditors.
Realistic Solutions
Reputable debt counselling services will be able to reach realistic compromises with creditors. If repayment schemes are made they should be based on payments that you will be able to afford without a financial struggle. There is no point putting into place a repayment plan that debtors will no be able to keep up with, as this will only make them more liable to stop payments. Reputable debt counsellors have the public's interest in mind and not the profits of the company they work for.
Debt counselling services receive thousands of phone calls per week reflecting the amount of people in the UK who are finding their debt hard to control. If you are having financial problems then seeking advice from a counselling service sooner rather than later would be a wise move.
You might also like...