All You Need to Know About Declaring Yourself Bankrupt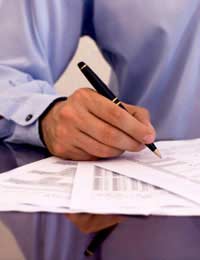 In a society where debt seems to be one of the main financial avenues to staying afloat it is not surprising that bankruptcy cases have reached a peak. More and more people are using bankruptcy as way of eradicating their debts and starting afresh. Cases of students with huge debts declaring themselves bankrupt have become common, and the stigma that was once associated with this process has now almost disappeared.
The Aims of Bankruptcy
Bankruptcy is a way to free yourself from debt, and depending on how you see it, can be a last resort or a new beginning. Bankruptcies can happen in three ways, voluntary, where you will start proceedings yourself, involuntary, by creditors you owe money to, or the supervisory of an individual voluntary arrangement (IVA) that you have defaulted on can also petition the court.
The Bankruptcy Process
For the bankruptcy process to begin a petition must be made to the court that the debtor is unable to pay his or her debts. If the petition is made by creditors the debt must be a minimum of £750. Even if you do not agree or acknowledge the bankruptcy proceedings they will still go ahead and it is wise to give your full co-operation once proceedings begin.
The petition will need to be accompanied by a court fee and a deposit. Along with the petition, a statement of affairs must be presented to the court that will include asset details, personal and employment details, bank and credit card information, and household expenditure details. This statement will be very detailed and will have all the debtor's financial details. The statement of affairs will be presented before a district judge who will set a hearing date.
The Court Hearing
At the court hearing a decision will be made whether to grant the bankruptcy order or not. The bankruptcy decision will either be immediately granted or it could be a delayed for more information; this is known as a stay. The judge could also dismiss the bankruptcy in favour of an administration order or will appoint an Insolvency Practitioner if an IVA is more suitable.
Handling of Your Bankruptcy
If the court decides to grant the bankruptcy order then an Official Receiver will be made responsible and will act as a trustee for your estate. A solicitor or accountant may also act as a trustee and are known as Insolvency Practitioners. The job of the trustee is to distribute your assets, if there are any, and to make payments to your creditors.
Restrictions to the Bankrupt Client
There are restrictions that apply to those who are made bankrupt. These will include:
Providing information to the Official Receiver of all financial details within 21 days.
Information of a rise in income or assets during the term of bankruptcy.
You will not be able to apply for more than £250 credit without admitting your bankrupt status.
You can no longer use bank or building society accounts.
You cannot engage in business using another name other than the name under which you were made bankrupt without disclosing that name.
There may be other restrictions that apply to pre-discharged bankrupts and breaking any of these restrictions will be a criminal offence.
Length of Bankruptcy
If you were made bankrupt before 1 April 2004 then the discharge period would normally be either two or three years. After this date the period was changed to one year unless an application has been approved by the court that the client has failed to meet the bankruptcy requirements.
Advantages of Bankruptcy
There are benefits to be had by either voluntary or involuntary bankruptcy. Once the bankruptcy has been made you may feel as if weight, which was caused by the stress of debt, has been lifted. You will no longer have the stress of dealing with creditors, and once you have been discharged debts will be written off and you should be debt free.
Disadvantages of Bankruptcy
Disadvantages can include the loss of valuable assets, loss of equity or the sale of your home, and could include the loss of your business if you own one. You will not be able to obtain credit of any great value and will have difficulty obtaining credit cards and bank accounts. The bankruptcy may be declared in a local newspaper, which may then leave the debtor feeling, in some cases, a sense of humiliation.
Although bankruptcy seems like a quick fix to major debt problems it is not a process to be taken lightly. In some cases it may hamper your ability to gain credit, mortgages or loans for a very long time. Advice from a financial advisor should always be sought before embarking on the bankruptcy process.
You might also like...