Remortgaging, a Good Way to Clear Debt?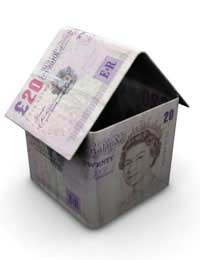 Remortgaging can be a good way to clear debt if there is enough equity available on your property. There may also be the chance to reduce mortgage interest payments by remortgaging with another lender. Freeing up the capital available on your home may be an option to consider if debts have become uncontrollable.
Remortgaging to Clear Debts
Remortgaging is the process of switching your mortgage without actually moving home. Remortgaging should only be considered if you can find a better deal with lower interest rates through another lender. The remortgage should be able to free up some cash via released equity that can be used to clear other existing bad debt. Once the bad debt is cleared you will no longer be burdened with payments or interest payments and should only have the one mortgage payment to make.
The Best Time to Remortgage
Remortgaging is an option usually available to borrowers that have had their property for a considerable amount of time and have built up some equity on the property. If interest rates have fallen and borrowers can see better deals elsewhere then it may be beneficial in the long term to consider this option. A home owner can also take advantage of options such as cashout mortgages. This will provide the option of mortgaging the home for more than the remaining value of the current mortgage. The extra cash option will be added to the value of the mortgage and the home owner is then free to use the money to repay other debts.
Benefits of Switching Mortgages
There are certain benefits to be had when remortgaging. These benefits should include:
Finding better interest rates
Reducing your monthly mortgage payments
Eliminating all other bad debt from released equity
The ability to borrow more money, clear debts, and still pay less than you are paying at the moment
Eliminate interest and repayments on all other debts leaving you with lower monthly payments
Once debts have been paid you may be left with some disposable income to use as you wish
Remortgaging and Fees
One of the positives regarding fees is that there should not be as many as when you first took out a mortgage. As you are remortgaging your own property you should not have to deal with estate agent fees or pay a duty stamp. You may have to pay an exit fee and in some cases an arrangement fee. The amount paid in exit fees may be reduced depending on how long you have had your mortgage for. Shop around for deals where all fees and arrangements are covered by the lender.
Finding the Best Deal
It will be in the home owner's best interest to shop around and find the best deal possible. Decide on the best remortgage tailored to your own specific financial needs. If you want to pay back capital and interest then check out the rates available with a repayment mortgage. With a repayment mortgage the interest will decrease over the set payment period and more money will be made in capital payments. There are numerous types of remortgage options and finding the best one for you will take some research time.
Where to Find Remortgage Deals
There are literally hundreds of different lenders on the market and it is a competitive business. There are lenders that will specialise in remortgaging to eliminate bad debt and these lenders can be found on the internet and in the high street. Word of mouth references are often a good way to find good lenders. If you have friends or family members that have used this type of service before, and they are happy with the results then ask for recommendations. However, always undertake you own research in order to find the best deals before applying.
If you have equity available on your home and it can be used to clear off present debts with spiralling interest rates then remortgaging can be a good option. The final result should leave you with a lower interest rate, lower monthly payments, and some disposable cash. Always take professional financial advice from a reputable advisor before you make you final remortgaging decision.
You might also like...