Pre Paid Credit Cards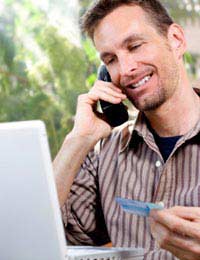 Pre paid credit cards have become very popular in the last couple of years. It is however slightly misleading to call them credit cards as there is no credit available. Pre paid credit cards can only be used after you have loaded money onto them and then they can be used in just the same manner as any other type of credit card.
How Pre Paid Credit Cards Work
Pre paid credit cards are very simple to use and have many advantages. Once you have received your card you simply top up with your own money and spend as you would with a normal credit card. One of the biggest advantages of pre paid credit cards is that they are available to anyone.
In the past people with bad credit records have found it very difficult to obtain credit cards unless they were willing to pay exorbitant interest rates. Pre paid credit cards can be obtained and used by anyone, regardless of their previous credit score. The cards are also debt and interest free, meaning there is no chance of going over the card limit and falling into a debt trap. There is no pre paid credit card limit; the money that is used on the pre paid cards is the card holders own cash.
Uses of a Pre Paid Credit Card
As with ordinary credit cards, pre paid credit cards have a variety of uses. They can be used to purchase goods in stores and online, pay bills, and transfer money. They are also accepted at most automated teller machines in the UK. Practically anything you can do with a normal credit card can be achieved with a pre paid credit card, except gain credit or fall into debt.
Fees and Charges
As with any service there are fees similar to those found with your everyday credit card. Although there are some pre paid cards that do not charge any fees except the application fees, there are some that will charges fees to top up the cards, withdraw money, and make purchases. Some card service providers will charge a monthly subscription fee, a fee when accounts are renewed and terminated, and there may be charges when their customer helpline is used.
The main advantage of course is that there is no annual percentage rate and no late or missed payment fees, as the money used is the customer's own cash. However, there is a wide variety of these cards on the market and competition between the providers is becoming fierce. By carefully shopping around and comparing providers you will be able to find pre paid credit card providers with almost no fees whatsoever.
Advantages of Pre Paid Credit Cards
These cards do have many advantages to them, especially if you have a poor credit record and find the temptation to go over credit limits hard to resist. Advantages include:
No annual percentage rates.
Cards are available to everyone.
You can keep an eye on how much you are spending.
Balances can be checked online or at ATM's.
No chance of going over a credit limit.
Can be used anywhere that a normal credit card can; home and abroad.
Safe and easy to use.
No credit checks.
Children and Pre Paid Credit Cards
There has been much debate about children and the use of pre paid credit cards. Some see the cards as a tool to enable children to learn about money and finances from an early age. Parents may also find it safer for children to use these cards instead of carrying cash around. However there is thought that the pre paid cards are simply the training ground for when the time comes to move onto normal credit cards. Parents will need to make up their own mind and use their own judgement when it comes to their children using pre paid credit cards.
Pre paid credit cards are easy to obtain and easy to use. They can be obtained online and at post offices and shops, and the cash can be loaded onto them both online and in many different stores. Always remember to shop around in order to get the best deal you can, and always read the terms and conditions that comes with any pre paid credit card application.
You might also like...