The Pitfalls of Buying White Goods on Credit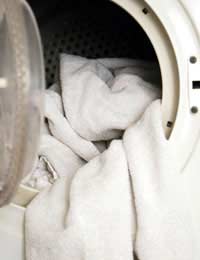 White goods are typically electrical appliances used within the home such as washing machines, fridge freezers and cookers. Many homeowners will use some form of credit to buy white goods but they can end up paying way above the actual retail price.
Using Credit to Buy White Goods for the Home
New home owners will often find that furnishing their property is a major expense. Many will turn to credit cards, hire purchase and loans to buy white goods such as washing machines and cookers. Buying white goods on credit is a particularly easy way to slip into long term debt. In many cases the debts will actually have outlived the goods themselves. Credit buyers can often find themselves paying for these goods for years, and there are certain credit deals that should be avoided.
The Rise in High Interest White Goods Suppliers
Every town and city has stores that will supply white goods on credit. Some stores will actually supply credit deals with reasonable interest rates but there are few that should definitely be avoided. These high interest stores target those who can least afford to pay the exorbitant interest rates. Stores such as these are easily identifiable by their 'no credit checks' and 'no deposit required' advertisements. But these well known, high interest stores are relentless when it comes to pursuing customers who have missed payments.
The Cost of White Goods through High Interest Stores
Buying white goods from high interest stores may be the only option available to those with poor credit records. But buying white goods on credit from high interest stores can often end up costing over double the actual retail price. Buying a £299 washing machine from one high interest store will actually cost £700 using their weekly payment options of £13 per week. Many people actually furnish their homes using this method. This is basically throwing huge amounts of money into the pockets of the store owners.
Sensible Credit Options When Buying White Goods
There are some credit options that do make sense when buying white goods for the home. Credit options that offer low interest rates over short terms periods can work out financially viable. In theory, the longer the credit terms the higher the amount of interest the customer will pay. But comparing credit deals through stores can bring good deals on even long term credit purchases. Customers should always check the final payment total and compare this with the actual retail cost of an outright purchase.
Long Term Credit Payments for White Goods
There are certain white goods such as washing machines that have an actual life of three to five years. Paying for goods on credit should be a short term option. A sensible credit length period should be around 12 months to avoid paying for goods longer than the actual life of the goods. Customers should also avoid paying high monthly charges for breakdown cover on short term credit deals. Look for stores that offer long guarantee coverage included that will not cost any extra on a short term credit deal.
Buying Second Hand White Goods on Credit
Buying second hand white goods on credit is generally not a good idea. The repairs that may be needed to a second hand washing machine or fridge freezer can actually cost more than buying new white goods. Plus, buying second hand white goods on credit can actually work out more expensive with interest payments than buying new goods outright. If customers are intent on buying second hand white goods they should make sure a guarantee is included in the purchase. There are companies that will sell refurbished white goods with long term guarantees included.
Look For Interest Free Deals on White Goods
There are many companies that will sell white goods with interest free terms. The internet is one of the best tools to use when researching interest free deals on purchases such as washing machines and fridges. These interest free deals do exist but may only appear for a limited time. Customers should always remember to pay the instalments within the interest free period. If the payments stretch past the interest free period there could be much higher charges applied.
If it is at all possible consumers should avoid purchasing white goods from high interest retailers. This may be a seemingly quick and easy way to furnish a home but the final cost will be exorbitant. If paying on credit is the only option customers should always go for the lowest interest rates available over the short term.
You might also like...