The Reality of Shopping Addiction and Debt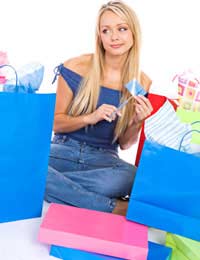 Shopping addiction is a disorder that causes misery for thousands of people. Although many sceptics doubt that compulsive shopping is an actual addiction the huge amount of debt that can be created is a very real problem.
Is Compulsive Shopping an Actual Addiction?
Many professionals have voiced their doubts that shopping addiction can actually be called a real addiction. Shopping addiction, for some experts, is seen as more of an obsessive-compulsive disorder than an addiction similar to kleptomania or obsessive eating. But shopping addiction does follow certain addictive patterns including rituals, momentary relief and negative feelings. Whether shopping addiction is an actual addiction or a compulsive disorder the reality can still be unpleasant for sufferers.
Reasons behind Shopping Addiction
As with all addictions or compulsive behaviour there are certain underlying causes. Many compulsive shoppers do have feeling of low self-esteem, depression and feelings of emotional emptiness. Shopping splurges relieve some of these feelings momentarily. Spending makes the addict feel in control and is a pleasurable experience. The shopping spree is usually followed by feelings of negativity, anxiety, shame and depression, and the vicious circle will continue endlessly.
Long Term Debt and Shopping Addiction
One of the most obvious outcomes of shopping addiction is long term debt problems. Many addictive shoppers will rack up thousands of pounds worth of debt on credit cards, loans and hire purchase agreements. This sort of behaviour can soon build debts up to an unmanageable level. The fact is that debt worries can often increase a compulsive shopper's addiction as a way to erase worries for a brief period. The end to this compulsive spending may only come when all spending options have been exhausted.
Knock-On Effects of Shopping Addiction
Shopping addiction will not just affect the actual sufferer. Like most addictions this behaviour can impact on family and friends. Most shopping addicts will try to hide their behaviour by shopping alone or hiding their purchases. But the massive amounts of debt that can be accrued will start to make a difference to the addict's bank balance and personality. Financial worries will lead to stress and can lead to mood swings and depression that can affect family members and co-workers.
Recognising the Signs of a Shopping Addiction
As with all addictions or compulsive behaviour there will be recognisable signs. These signs may not be apparent to the sufferer at first, and close family members may actually realise that something is wrong before the addict. Signs that spending has become a problem can include:
Emotional signs such as mood swings, depression, anger and anxiety
Physical signs such as sleepless nights and actual illnesses caused by debt stress
Purchasing large amounts of goods that are never used or are hidden in the house
Elevated feelings of pleasure by shopping for goods
Using shopping as a reward after a bad day
Increased amounts of debt and an inability to manage money
Making excuses for overspending on unnecessary items
Feelings of guilt or shame after spending
The New Dangers for Compulsive Spenders
There is no longer any need for compulsive spenders to hit the stores on a shopping spree. Internet shopping has made excessive spending easier and is also a way of keeping excessive shopping hidden. Internet shopping provides exactly the same kick as shopping in actual stores. As internet shopping is conducted using credit cards and debit cards the debt factor remains the same. This is simply a new way for compulsive spenders to achieve that feel good high without having to leave the home.
Treating a Shopping Addiction
Unlike drug or alcohol addictions there are no standard treatments for compulsive spending. Antidepressants have been used by some doctors to treat the addiction but this may not actually address the underlying problems. Some experts believe that a combination of cognitive behavioural treatment with antidepressants may help sufferers of this problem. The debt problems that occur from shopping addiction can be addressed with the help of consumer credit counselling services. Eliminating all credit methods will be the first step towards treating the debt problem.
There is no quick and simple way to cure an addiction such as compulsive spending. For the addict, one of the first steps will be admitting that there is an actual problem. Seeking professional advice from both medical experts and debt help organisations will be beneficial. Support should also be taken from close family and friends who will no doubt be pleased that the issue is finally being addressed.
You might also like...
@Jel - I can direct you in two ways. Firstly, to Payplan which gives free confidential advice, guidance and support for anyone struggling with debt. Its purpose is to help people find a way out of debt and enable them to take back control of their money. It also has a page on what is classed as 'irresponsible lending',
link here
.As our article specifies there is no longer any need for compulsive spenders to hit the stores on a shopping spree. Internet shopping has made excessive spending easier and is also a way of keeping excessive shopping hidden. Age Concern UK also offer some helpful advice on getting yourself out of debt
link here
. I hope this helps.
GoingDebtFree
- 19-Nov-14 @ 10:41 AM
Catalogue debt ofnearly5000. Should they have given me this amount of credit as a single parent on low income. Is this irresponsible lending. Can I expect them to reduce the debt or refund any of the interest charge
jel
- 17-Nov-14 @ 9:28 PM