How Serious is Your Debt?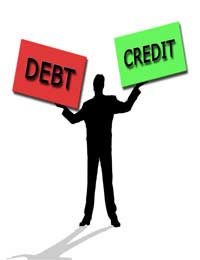 There are a number of warning signs that should ring alarms bells that debts are becoming uncontrollable. Debtors will often be in denial over their debts but answering yes to more than one of these questions could mean that debts may be getting out of hand.
Are Most of Your Monthly Wages Going to Pay Off Debt?
When payday comes around each month are you less than thrilled about it? People in serious debt usually find that a large proportion of their monthly salary goes towards paying off credit cards, loan repayments and interest fees and charges. If you have little or no disposable income left after paying credit bills every month it may be time to look at a debt solution.
Is One or More of Your Credit Cards Over the Limit?
This may not be too much of a problem in itself if you can quickly reduce the credit card limit. However, over the limit credit cards will mean increased charges and increasing amounts of interest. If you only ever pay the minimum amount on your credit card you will only be paying off some of the interest fees. Look to pay as much as possible each month to quickly reduce these credit card balances.
Do You Frequently Use Your Overdraft Each Month?
Overdrafts are useful as a short term debt solution but going over an overdraft can cause problems. Using an unauthorised overdraft can mean charges of £25 to £30 every time you go over the overdraft limit. Abusing an overdraft can lead to the lender stopping this facility immediately and demanding full repayment of the overdraft. The lender may allow you to repay in instalments but this will mean another debt to be paid each month.
Do You Dread Opening Credit Card Bills Each Month?
This is an obvious sign of a debt problem. People in debt often leave credit card statements unopened for months at a time. In a number of cases the only time they will open them is when a debt collector begins to make telephone calls. Burying your head in the sand is not an option when it comes to managing debts and will only lead to larger problems. Talk to lenders to restructure a new credit plan that will give you time to pay and avoid a bad credit reference.
Have You Been Turned Down for Loans or Credit Cards?
If you have been turned down when you apply to lenders for credit it may mean that you have financially overstretched yourself. Lenders check credit reference files and if you have been turned down it may mean that you have a bad credit reference. Obtain copies of your credit reference to find out where the bad reference has come from. Obtaining a copy of your credit file is free and any mistakes on the reference can be rectified.
Do You Constantly Use Credit Cards to Pay for Everyday Items?
If you are constantly using your credit card everyday to buy food or splurging on impulse purchases you are basically throwing away money. Over the course of a month this amount will add up and you are paying extra in interest for your purchases. If you are withdrawing cash from and ATM using your credit cards then the interest will be even higher. This is an easy way for debt to rapidly mount up, and using a debit card or cash is the better option.
Do You See Credit Cards as a Licence to Spend?
Many people simply see credit cards as instant money and have a 'buy now, think about paying it later' attitude. When you purchase goods on a credit card you are really saying to the lender "can you lend me the money to buy this?" The lender will give you the money via the credit card and add on their fee for lending. If you had to approach a lender in person every time you wished to buy something would you actually buy the item on credit or use your own cash?
Have Debt Collectors Contacted Your Recently?
When debt collectors start calling or sending letters it usually means the debt problem has become serious. If the calls and letters are appearing from multiple collection agencies it is time to seek some form of debt help. Always try to come to some form of payment arrangement in the first instance with collection agencies. Never be intimidated by collection agencies and never offer more than you can comfortably afford each month.
If you are in serious debt then you are not alone. Personal debt levels in Britain have never been higher but help is available. Contacting the Citizens Advice Bureau or the Consumer Credit Counselling Service will be the first step to taking control of your financial life.
You might also like...