Is Your Over Spending a Symptom of a Bigger Problem?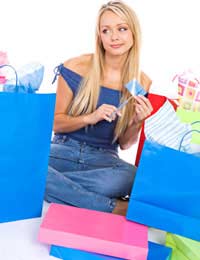 Over spending to the point of falling into serious debt is usually the symptom of a more serious problem. Recent medical association reports have stated that overspending can actually be one of the symptoms of serious depression.
Overspending and Addictive Behaviour
Compulsive spenders show many of the same symptoms as people suffering from more common addictions. Similar to drug and alcohol abuse it is not uncommon for the person overspending to achieve a 'high' followed by a crashing low. This momentary feel good factor can soon become a very serious desire. When the spending addict feels low or is in a bad mood the desire to spend money becomes stronger and is often irresistible. Compulsive spenders have described buying goods as a 'rush of euphoria' in much the same way that gamblers or alcoholics describe their own addiction.
Causes of the Overspending Addiction
There are numerous reasons why a person will become addicted to overspending. Compulsive spending is sometimes used to compensate for something lacking in other areas of the addict's life. The spending addict may be suffering from emotional issues such as low self-esteem and even depression. Compulsive spending can be a way to fill what has been described as an 'emptiness' in the spending addicts life. Spending may start off as a pleasurable and harmless experience but once a compulsive spending pattern has taken hold it can be very hard to break.
The Vicious Circle of Compulsive Spending
If the overspending addiction is allowed to take hold it can become a very serious problem. The momentary pleasure from spending can soon lead to serious debt problems. These problems will simply add to the addict's problems causing more misery and heightening the need to spend. The trouble with an overspending addiction, like any addiction, is that it can creep up without notice. It may only become apparent when debts have spiraled out of control and there is not enough income to match outgoings.
Identifying the Signs of an Overspending Addiction
To most people the signs of overspending would simply be a case of living beyond your means. But to a compulsive spender this is usually not initially apparent. Signs that spending has turned into an addiction can include:
Impulse buying that leaves the spender feeling happy
Spending money after a bad day or when in a bad mood
Borrowing money simply to buy unneeded purchases
Time spent off work due to stress over debts
Feeling unhappy or worthless due to debt problems
Borrowing money from others gives a sense of relief
The spender does not like others finding out how much debt they are in
The spender has given incorrect information to obtain credit
Overspending Can Be a Symptom of Depression
Recent studies by American universities have shown that overspending can actually be one of the symptoms of depression. Symptoms can often manifest themselves in a number of ways such as overeating or alcohol problems. Findings from new studies show that people suffering from depression are more likely to spend excessive amounts of money. Excessive spending is reported to be one of the ways that temporarily relieves the feelings associated with depression such as sadness and feeling empty.
Finding a Solution to Overspending
Finding the right solution to an overspending addiction is not always simple. There are thousands of debt companies on the market that claim they will help those who are deeply in debt. Debt help companies can only help with the end result not the actual problem behind the spending addiction. Getting to the root of the actual addictive behaviour may take professional help. Seeking the advice of a doctor or a qualified addiction counsellor will be the best route to take.
Where to Find Help for Compulsive Spending
Apart from doctors and addiction counsellors there are organisations that can help compulsive spenders. An organisation called Debtors Anonymous can help those who suffer from this addiction in much the same way as Alcoholics Anonymous. Debtors Anonymous run a 12 step programme designed to tackle the problem of overspending in a sympathetic and collaborative way. The service is free to use, and more information can be found on their website debtorsanonymous.
Overspending has become a common problem in the UK. Although compared to other more well known addictions it does seem like a relatively new problem. Compulsive spending causes misery and financial hardship for thousands of people in the UK. Treating the actual addiction rather than the end debt result is the best route to hopefully curing this serious problem.
You might also like...