Online Credit and Debt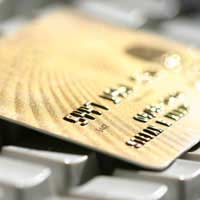 With wider lending options available via the internet it has never been easier for customers to obtain credit, or to become saddled with serious debt. Financial internet sites have witnessed a huge rise in online credit and debt as customers look for, and find, new lending sources.
Online Lending facilities
High street lending is now not the only option when consumers consider obtaining a loan or credit cards. It can be a case of simply obtain a loan during lunchtime at work via your computer. Internet lending has made it simpler for customers to obtain credit if they have a good credit history. But even those with a bad credit history can usually find someone online willing to give them credit, and this usually means high interest rates.
Internet High Interest Lenders
High interest lenders are lenders that target those who cannot obtain credit elsewhere. They will hook bad credit borrowers with advertisements such as "no credit checks" and "bad credit history not a problem". They will then offer loans with extortionate interest rates that can last for years.
The Debt Cycle
High interest lenders make their profits from repeat customers who borrow loan after loan. Lenders such as these are never a solution to debt and they will not hesitate to call in debt collectors for missed payments. Missed or late payments will also rack up interest fees and incur penalties. It is never a good idea to borrow from these internet lenders as they can lead to a cycle of borrowing and debt that will be hard to escape from.
Online Credit Facilities
For those customers with good credit ratings the internet can be a good source for finding low interest loans and credit cards. The criterion for internet lending is much the same as high street lenders; good credit history, stable salary and long term accommodation details. Internet only lenders are able to offer lower rates of interest due to their low overheads.
Customers looking to borrow money or gain credit will find it advantageous to research various credit comparison websites before applying. These sites can be a useful guide when looking for the lowest interest rates when it comes to loans and credit cards. However, internet comparison sites should only be used as a guide; customers should always research lender's own websites as well as comparison sites for the latest offers.
Online Debt Information
Serious debts can be a stressful and worrying problem regardless of where the debt came from. For borrowers who have found that their debts are becoming uncontrollable it may seem as if there is nowhere to turn. Turning to another loan will not be the answer to the problem. There are internet sites that can help with debt problems, in particular the Citizen's Advice website and the Consumer Credit Counselling Service.
Both of these sites will be able to give information regarding online credit and debt. They will not charge a fee for any advice or help given, and all client details are confidential. Anyone seeking help for their debt problems should be wary of any internet site that charges a fee when offering to help with debt problems. In many cases the debtor can easily undertake the same debt solutions that are offered by the internet debt help sites, without paying a fee.
Online credit and debt are two ever expanding issues with today's buy now pay later society. Responsible borrowing should be an issue that is taken more seriously, and not left until debts become uncontrollable. If used responsibly the internet can be a good source of lending options, but if it is abused then the consequences for the borrower can be severe.
You might also like...