Ten Tips to Stay Debt Free This Year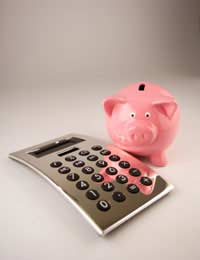 Staying debt free is never an easy option and for most people overspending each month is the norm. Using these ten tips may help you to stay debt free this year and in the future.
Ditch the Credit Card
Credit and store cards will eat your money if you don't pay them off every month. Interest charges basically mean you are giving lenders your hard earned salary.
Missed or late payments means the lenders are having a bonus month with your money. You are essentially paying extra for your purchases when paying interest. Avoid this by paying with cash or using debit cards.
Always Pay More than the Minimum Payment
If you must use credit or store cards then make sure to pay more than the minimum payment each month. Lenders love minimum paying customers as it means that the customer is hooked for longer by simply paying the interest each month. Look to pay off as much as possible until the balance is cleared.
Avoid Impulse Spending
Impulse spending is a nasty habit and can lead to high levels of debt. If you are prone to impulse spending then look out for your own personal spending triggers. You may be someone who spends when feeling down or because you feel you deserve it. Buying goods that you don't really need or want will waste money. Consider saving this money and putting it to good use such as clearing a credit card or loan.
Switch Lenders
Look at ways to cut your interest rates by transferring credit cards to lower interest cards or cards with interest free periods. You are the customer and it is in your interest to get the best deal possible for your money. Switching credit cards to zero interest cards will give you some breathing space and allow you to get account balances down as quickly as possible.
Set Up Direct Debit Payments
Paying your credit cards, loans, and fuel bills by direct debit can have benefits. By doing so you should avoid any late or missed payment charges. You can also save money by setting up direct debits as some companies give money off to customers who pay by direct debit.
Take On an Extra Job
If you have debts that are becoming uncontrollable then consider taking on a part-time or weekend job. This does not have to be a long-term option but can help reduce debts rapidly. A few extra hours a week can soon mount up over the course of a year. The extra effort will be worth it to clear off debts and reduce financial stress. Look at telecommuting jobs that can mean working for a few hours each evening from your own home computer.
Don't Live Beyond Your Means
An easy thing to say but not so easy to achieve. Many people spend more than they earn each month by using credit cards. Look for ways to cut down on spending in certain areas of your life. This could be buying own brand goods in supermarkets or cutting down on petrol bills by using public transport. Write a list of exactly where your money goes each month and see where cuts can be made.
Consolidate Your Debts
Taking out one large loan to pay off all present debts may make a large difference to the interest you pay each month. It may also cut the amount you are paying to multiple lenders each month. Only use this option if the interest rates on the new loan work out less than your present interest rates. This is not an option for everyone but it can help clear debts rapidly.
Seek Professional Help
If you have uncontrollable debts do not stick your head in the sand in the hope they will disappear. Seek advice from official avenues of help such as the Citizens Advice Bureau or the Consumer Credit Counselling Service. These agencies are designed to help people find the best way to clear their debts and they will not charge you for the advice they give. Do not approach debt agencies that say they will help if you pay them a fee.
Don't Panic Over Debt
If you are in debt remember that you are not alone. Do not panic and take out more loans or credit to help pay debts you already have. Taking on more debt will only lead to more debt problems. Clearing debts and becoming debt free is a major achievement for most people but it is achievable. When your debts are cleared it will be one less thing to worry about in your life.
You might also like...