Spotting and Avoiding Bad Debt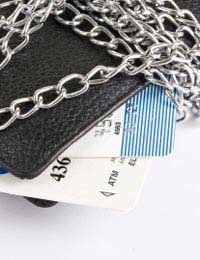 You may think that spotting and avoiding bad debt is a fairly simple task. Most people would think that high interest rates mean bad debt and low interest rates mean good debt. However, good and bad debt can also be translated into how you use the credit you have acquired and what the eventual outcome of this debt is.
Good Debt
Good debt can be viewed as credit you have gained that makes a long term improvement in you life. For example you may take out a mortgage to buy a home that will appreciate in value in the years to come. Taking out loans to pursue professionals qualifications that can lead to higher paid jobs can also be viewed as good debts. Debts that actual enhance your life can be seen as a positive, and in many cases this type of debt is very necessary to progress in life.
Bad Debt
Bad debt will be debt that will make no difference whatsoever to your life and in most cases will simply be a momentary pleasure. Debts such as personal finance loans and credit cards, especially high interest ones, which are simply used to purchase goods are bad debts. These are debts that you can usually live without and will not make an overall positive difference to your life in the long term. However, these debts can make a difference if factors such as compounded interest, and missed and late payment fees become a problem. Once debt becomes uncontrollable it can lead to problems such as long term stress and major money worries.
Spotting the Bad Debts
There are other obvious bad debts that should be avoided completely. High interest loans are widely available in the UK through high street and online lenders. The loans are usually taken by borrowers who cannot obtain credit anywhere else. The interest rates on this type of personal finance can be crippling and can leave borrowers trapped in a debt cycle for years. Once a borrower has become hooked into the bad debt cycle it is very hard to escape, and can ultimately lead to bankruptcy or their home being repossessed.
Credit Card Debts
Credit cards are usually viewed as bad debt due to the high interest rates and the amount of time it can take to clear balances. One or two missed payments may not seem too much of a problem, but it will not take long for the interest to start compounding. A huge number of borrowers are simply paying back the interest each month and not making a dent on the actual balance. Credit cards should be avoided if possible, and borrowers should look to lower interest forms of personal finance.
Store Cards
Store cards are one of the worst bad debt options. Although they may look like a great solution, especially at certain times of the year such as Christmas, the annual percentage rates are huge. If you are able to repay the store card in full each month without incurring any interest charges then do you really need a store card? The high interest rates on these cards have left many people with bad credit records through missed payments, and they should be avoided.
No Credit Check Lenders
Lenders that offer money without checking credit records have become big business in the UK. But no credit check lenders also mean high interest rates. Many borrowers use no credit check lenders as a way to get them from one pay day to the next. It is very easy to slip into a cycle of borrowing and debt by using the services of a no credit check lender. Borrowers should also be aware that fees and charges for missed and late payments through this type of lending service will usually be exorbitant.
Impulse Spending and Bad Debt
Many people are addicted to the sudden rush of impulse spending and it can lead to huge debt problems. As consumers we are bombarded with easy options to buy goods now and then pay later. Online shopping, television shopping and simply wandering the aisles of supermarket clutching a credit card can all be temptations. If you cannot trust yourself to ignore the impulse to buy on credit then leave your credit cards at home. Try switching to debit cards where the money will come from your account, with no added interest fees.
Spotting and avoiding bad debt is one of the steps towards becoming debt free. Knowing the debts that can seriously lead to money problems in the future will save you a great deal of money and stress. The money you save will be better off in your pocket than in the pockets of the high interest lenders.
You might also like...