Saving and Investing to Avoid Debt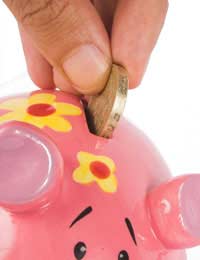 Becoming debt free can mean cutting costs where household expenditure is involved and then placing any surplus cash into savings and investments. If you have never though about investing your money before then it can be a great way of actually making your money work for you. Seeing your balance grow every month should be an incentive, and there are saving and investing options to suit every budget.
Why Save?
If you have been in serious debt then the prospect of not having any money in the bank must be a familiar scenario. The temptation to apply for more credit is hard to resist, but credit cards and loans with high interest charges will simply eat any existing and future money. In the end it could be that you are simply working to pay bills and debts. If an emergency situation were to occur would you have enough ready funds to cope?
Many people have little or no savings and a huge percentage of the population simply exist from one wage to the next. A large number of people in the UK spend well above their salary intake every month with nothing placed into savings. At the very least you should have a 'rainy day' savings account, where money can be readily accessed for any type of emergency.
Savings Accounts
Walk down any high street and you will be bombarded with advertisements from banks and building societies informing you that they give the best interest rate accounts. If you are planning to open a high interest, deposit required account then you will need to shop around for the best deals available.
High interest or bond accounts will usually require a notice period, sometimes as much as 90 days, and a minimum deposit will be required. High interest accounts can give good rates compared to basic or current bank accounts but they are usually aimed at the more disciplined savers who will not frequently withdraw their cash. If you think you can be disciplined and not touch your savings from between one and three years then many banks give bonuses at the end of the term. The interest rate may also be fixed on these accounts and a minimum deposit will be required.
Start Small
Saving can be difficult if you have a large number of debts to pay every month. But even 10% of your monthly salary placed in a notice required account will build up quickly. A regular savings account with no notice required will not give a great rate of interest but these are very useful to have as emergency savings accounts.
Investments
Investing your money in stocks and shares is a slightly riskier way to save but there are low risk options such as Individual Savings Accounts or personal pension plans. If you want a higher return for your money then you must be committed to investing your money over a longer period of time. When you are investing in stocks and shares there may not be a guaranteed interest rate or a guaranteed rate of return on your money.
Individual Savings Accounts
If you want a saving and investing option that gives tax benefits then consider taking out an Individual Savings Account. These are a great way to save money and receive tax benefits. You do not have to declare any ISA savings on a tax return and you will receive a 20% tax return on any money held. There is an investment limit with ISAs and you can withdraw your money at anytime.
Pension Plans
Pension plans are relatively low risk and if you are employed then your own company may have their own pension plan with added benefits. Many companies do place some money in the plan along with your own money. Pension plans are a good way to ensure that you have some savings for your retirement but the earlier you start saving and the more you place in your pension fund the better.
You cannot usually have access to your pension plan fund until retirement age. When you do have access then you can take a 25% tax free lump sum. The rest of the pension fund will usually be used to buy an annuity, or you can leave the money in the fund and draw an income while leaving the rest invested.
As with all saving and investing options you should shop around for the best rates and research each option thoroughly. Take financial advice from a trusted friend or colleague who has already invested money, or use comparison websites to see the best deals available. Many people never think about saving money, but seeing a balance rise every month will give you an incentive to continue saving.
You might also like...