Your Credit Rating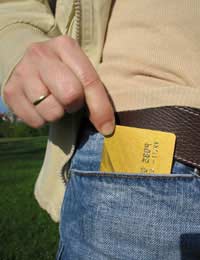 Throughout your life your financial status is being monitored by credit agencies, and information regarding your credit and debt is compiled in a report. The outcome of this report will be your credit rating, or credit score, and this rating will be used to help determine whether or not you are a financial risk when applying for credit.
Credit Report Agencies
In Britain there are three major credit agencies that hold your financial reports, and who you can apply to in order to get a copy of your report. These reports are easy to view and are available online for a small fee. Theses agencies gather the financial information on you from a number of sources. The credit report will have a great deal of detailed financial and personal information including:
Settled credit account information from the last six years.
Credit defaults, including late and non payments.
Previous addresses.
How much you owe on credit accounts over the last three years.
Unusual credit activity over the last 12 months.
Over committing on credit making you bad risk potential to creditors.
Details of bankruptcy over the last six years.
Electoral register details.
There will be a wealth of financial information on these credit reports, and it is in your best interests to check your report regularly. Checking your report is essential in order to make sure the information held on you is accurate and to keep and eye out for identity theft.
Your Credit Rating and You
Credit reports are one of the major deciding factors as to whether or not you will receive credit, loans and mortgages. They also have wider applications and any financial dealings you have with other people may only be considered after your report has been checked. For instance if you are trying to rent accommodation, your landlord can check your credit report in order to assess whether or not you are a risk. If you have a bad credit rating it will make it virtually impossible to gain loans at low interest rates, and banks may only offer you a very basic bank account.
A bad credit rating can go against you if you are applying for something as simple as a mobile phone contract or a home telephone line. In many cases the company may consider you but they may ask for a deposit before granting you their services.
Credit Footprints
Credit footprints are records of applications you have made for credit or loans. Details are recorded on your credit report whether you have been successful in your application or not. These can then be passed onto anyone who is considering giving you some form of credit. If you are searching for credit, do not fill out an application in the first instance, always ask for a quote. By asking for a quote there will be no credit footprint, and only allow permission for a credit check once you have made up your mind to apply for the credit.
Credit Blacklists
Credit blacklists are a myth; there are no blacklists, only information that can go against you when applying for credit. Lenders will take your credit score and then make their decision over your credit potential. One lender may refuse you credit while another may grant you the credit. The granting of credit is somewhat determined by the lender's own criteria. If you have a bad rating they may offer you credit but with a higher interest rate.
Credit Repair Companies
Beware of companies that tell you they can repair your credit rating for a fee; this is nonsense. If the information on your credit report is correct then it cannot be changed. If the information is incorrect then you can dispute this with the credit report agency; this may take some time but it can be changed.
Where Credit Agencies receive their Information
Credit report agencies will obtain their information on you from two main sources; public records, and information from lenders. Public records will include court judgements, bankruptcies, the electoral register, and individual voluntary arrangements.
Information from lenders and financial institutes will include such details as credit accounts, credit applications, missed payments, leaving an address without telling the lenders, and information on other people at your present address. All of this information goes into calculating your national credit score, and current creditors can use this as a guide to your credit worthiness.
Although your credit rating will be with your for life, it will change with your financial circumstances. There are ways to change a negative credit rating into a positive one within a short space of time, although it can take years. People who are constantly late or miss payments may not realise these are recorded on credit reports and can damage future credit applications. These reports are important to your credit standing, and your credit rating will be taken seriously by future creditors.
You might also like...