Managing your Student Loan and Avoiding Debt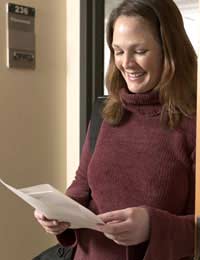 If you are attending university or college then you will no doubt be in receipt of a student loan. If you are not a mature student then this may well be the first time you have had to think about finances, and a student loan should not be taken lightly. Students are finding themselves with serious debts to pay back once they move into the employment sector, and managing your student loan will be a way to reduce the amount of debt you need to repay in the future.
Student Loans and Credit Scores
Previously, student loans were not included in credit reference agency files, so any defaults were not recorded. However this is all set to change in 2008. The government are going to supply the three main credit reference agencies with details of people who have defaulted on their student loans. These defaults and black marks on credit files may have an adverse effect when it comes to mortgages and other types of borrowing.
Paying Back Student Loans
The good news for students is that the loans are the best rates and terms they will ever receive. The interest is calculated on the rate of inflation, so many people consider the interest to not really be interest. You do not need to repay your loan until you are earning £15,000 and over, and after 2012 you can take up to a five year holiday payment break. This all sounds excellent until you realise that many students leave university with a hefty £20,000 worth of debt to their name.
Making your Loan Last
Many people think that students have an easy life; always in the pub, never attending classes and always socialising. This is more usually the wrong impression, student life is a lot of work, and many students need to take part time work to support themselves. A great number of mature students are working, raising a family, and attending classes in order to further their careers.
A student loan is necessary for many students to pay for classes, accommodation, course materials and living expenses. Trying to make a student loan stretch to paying for all of these expenses, especially if it is your first time dealing with finances, can be both a financial awakening and very stressful.
Budgeting Plan
If you are having problems managing your student loan, then sit down and set out a budget plan. List all of your income and expenditure and then see where costs can be cut. Costs can be reduced in simple ways; instead of buying new expensive course books, use the library or search online for second hand copies. If you have a credit card then pay this off with your student loan and you will not have huge interest charges to deal with every month.
Maximise your Income
Maximising your income means finding some way to bring more income into your home. For students this usually means finding part time work in pubs or restaurants. This is a good way of bringing in more money and can help reduce the spending on your student loan or overdraft.
Look for jobs that pay double time at the weekend; there are some available. Many council and government jobs will pay double time for weekends; jobs such as home helps and care assistants do pay extra on Saturday and Sunday. Register with temporary agencies and tell them you are specifically looking for this type of work. But remember temp agencies will take a cut of your wages.
Watch your Spending
With such a large sum of money suddenly appearing in your bank account it is easy to go on a spending spree with a student loan. Discipline will be needed and impulse spending does need to be avoided. When managing your student loan set a limit on your weekly spending.
Try to get big debts out of the way as soon as your loan arrives; pay off accommodation costs for the whole term when your loan arrives. But remember that your student loan is earning interest the longer you keep it in the bank so do not pay off more than one term at a time.
Managing your student loan will take careful planning and self discipline. You should view this loan as an investment in your future; it's being used to pay for your education, which will hopefully lead to wider and better job prospects. Most students leave university with some form of debt, but the less you spend, the quicker these debts can be paid off.
You might also like...