Single Parent Debt Trap: A Case Study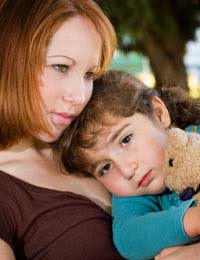 Debt problems can hit anyone from any section of the community. There are certain people who are more vulnerable to debt problems and the following is an example of a single parent who fell into an easy debt trap.
A Simple Mistake that Led to Debt
Alison is a single parent with two children both of school age. She had debts though various home shopping catalogues but these were not at the unmanageable stage and she worked part time during school hours. Problems arose after a mistake over her housing benefit allowance.
The local council had made a simple mistake and had been paying more housing benefit that they should have been for an entire year. Two weeks before Christmas Alison found herself with a council demand for £2000.
Christmas Debts
With Christmas approaching Alison only had one more payday before the year end. With council tax demands, rent money due, living expenses and now a new payment instalment plan for the overpaid housing benefit Alison was desperate to find extra money for presents for her children. She had already gone over the limit on the home shopping catalogues and the only solution she could think of was to borrow money.
No Credit Checks and High Interest
In desperation Alison borrowed £1000 from a high interest loan company that did not check credit references or even thoroughly check Alison's income and expenditure. The loan was supplied through a well known high street lender and the interest charged was 64.9% APR. Alison would now have to find an extra £108.14 per month for the next year on top of her other monthly outgoings.
Overdrawn and Over the Limit
Over the Christmas period Alison had now used her £500 bank overdraft, the £1000 loan and was now over the limit on her one credit card. By the end of January the bills started coming in and Alison's outgoings were now almost equal to her total income. By the end of March, the bank had demanded repayment of Alison's overdraft. The catalogues and credit card company had placed her accounts with debt collection agencies and demands were coming from the loan company, the council tax and rent offices.
Debt Consolidation Option
After talking to a neighbour Alison had been given the name of debt consolidation agency that would provide one large loan to cover all of her debts. The consolidation company said they could give Alison a £5000 loan to cover all of her debts and they would phone back. Fortunately for Alison the company would not provide the loan as she did not pass the credit check. If Alison had taken this loan she would have been paying monthly instalments of £150 for the next five years.
Hiding from Collection Agencies
Debt stress was taking its toll and Alison was now not answering phone calls or opening bills. She was also taking days off work due to worry and stress. When Alison did answer the phone debt collection agencies were using intimidation tactics such as telling Alison they would send collectors to the house and threatening her with wages arrestment. The final straw for Alison came when letters stated that she had to appear in the county court due to unpaid debts.
Taking Professional Advice
Finally, on the advice of a friend Alison sought advice from the Citizens Advice Bureau. They took all of Alison's financial incomings and outgoings to calculate lower repayment options to creditors. They also helped Alison negotiate with creditors to explain the situation and to arrange lower payment instalments. They arranged debts into priority and non priority debts and by doing so Alison was able to avoid legal action proceeding any further.
Debt and the Future
Apart from making debts more manageable one of the major plus factors when obtaining help from the Citizens Advice was to reduce Alison's debt stress. She was now able to stop constantly worrying about her debts and her mood had become noticeably lighter to people around her, including her children. It will take Alison around three years to clear all of her debts. It would have taken Alison a considerably longer time and cost her a lot more money if she obtained the consolidation loan she had considered.
It is very easy to slip into debt through one or two unexpected mishaps. This example is a real case study but the outcome could have been a lot different if Alison had not sought advice from the Citizens Advice Bureau. People who are struggling with mounting debts should always try to seek other solutions rather than take on extra debt.
You might also like...