Cosmetic Surgery and Debt: A Case Study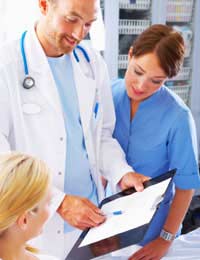 Cosmetic surgery is a booming business in the UK with half a million UK residents opting for cosmetic treatments every year. The variety of finance options offered by clinics has also made it easier to slip into debt as this case study shows.
Cosmetic Surgery after Childbirth
Joanna Scott, 35, had given birth to twins, and after a year of dieting and exercise the resulting weight loss left her with excess skin across her stomach. Joanna heard from a friend that doctors can refer patients to have paid cosmetic operations through the National Health Service. Cosmetic surgery is not always available through the NHS, although in some cases a doctor's referral can open up this option. When Joanna finally contacted her doctor she was refused the treatment. Her doctor informed her that she would have to wait at least another year to see if there was any change with the excess skin.
Cosmetic Surgery and Boosting Confidence
Having been refused treatment on the NHS Joanna decided to take the plunge and seek private treatment. "I was angry at first after reading newspaper reports about thousands of people receiving liposuction on the NHS," Said Joanna. "This was completely affecting my confidence and I hated undressing in front of other people so I decided to have the surgery and pay for it myself." A tummy tuck or abdominoplasty costs between £3,800 and £5,000 in UK private clinics but most clinics offer various finance options.
Easy Finance Options for Cosmetic Surgery
The finance option available at the private cosmetic clinic Joanna chose was similar to a credit card. Joanna had to undergo an application procedure with credit checks and was then given a limit on her cosmetic surgery credit card. "For me this was the easiest finance option although I could have taken out a loan," Joanna said. "The limit was anything up to £20,000 and interest free for the first 10 months. After the 10 month time limit the interest would begin on the amount borrowed."
Cosmetic Treatments and Easy Debt
"I hadn't intended to spend more than the £4000 for the tummy tuck," Joanna said. "At my consultation the surgeon said that a breast uplift would compliment the tummy tuck and the price could be added to the cosmetic credit card." A breast uplift or mastopexy in the UK costs between £3,250 and £5,500 and is designed to remove sections of loose skin that can appear after pregnancy and breast feeding. "The breast uplift brought my card balance up to nearly £8000 but I didn't actually think of the cash, how I would look after the surgery was more important."
Paying the Price for Cosmetic Surgery
Apart from some minor scarring that Joanna was informed would fade in time and a painful recovery period she was very pleased with results. "The surgery totally boosted my confidence and I was more than happy with the results but when the monthly statement arrived from the clinic I realised I now had £8000 to pay." Said Joanna. The payments for the surgery were payable in monthly instalments as with a normal credit card but this was an extra monthly expense that had to be paid.
High Interest Debts For Cosmetic Surgery
Within only a matter of a few months Joanna's debt had increased by £8000 with no additional income to cover the payments. "I wasn't overly worried about the debt but I knew that if I didn't pay this off within the interest free period then this debt was going to drag on and mount up." Joanna said. By the time the interest free period had expired Joanna had only paid around £1200 to the cosmetic surgery debt. "I couldn't really afford to pay off large amounts to this as we were living only on my husband's wage, and with two kids our household income was pretty tight."
Paying off Extra Debt Quickly
Rather than eat into the existing household income Joanna decided to take part time work to pay for this debt. "This was my debt so I had to bite the bullet and bring in some additional income to pay specifically for this in order to avoid it dragging on for years." Even with Joanna's part time wage paying off the cosmetic surgery debt the £8000 will not be completely paid off for at least two years. By the time the debt is completely paid Joanna will have spent around £2000 in interest charges on top of the original fee.
Easy finance options for cosmetic surgery have led to an increase in debts for those looking to improve their body image. Unfortunately there are many reports of people sliding deep into debt for exactly this reason. Researching all available finance options should be undertaken before signing any credit contract.
You might also like...