Facing Up to a Debt Timebomb: A Case Study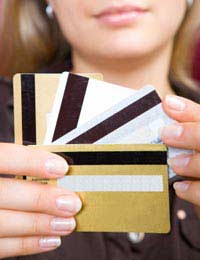 Ignoring a ticking debt timebomb is not a wise option. Yet many people choose to ignore the signs of debt until it is too late, as this case study shows.
Daily Spending Using Credit Cards
Serious debt problems can occur rapidly but there are always signs that debts are becoming unmanageable. Excessive spending on credit cards is a habit shared by millions of borrowers in the UK. For Angela Hill, 28, spending on her three credit cards was a daily occurrence. "I thought nothing of using my credit cards to buy lunch during work and household shopping after work as well." said Angela. "At the weekends I used my credit cards for shopping splurges, especially if I had a night out planned."
Doing the Credit Card Shuffle
When Angela maxed out one credit card she simply used her two other cards whilst only paying the minimum limit on all of her cards. "I had quite a good salary and I wasn't too worried about expenses. The banks were quite happy to extend my credit card limits, and some did this without even telling me." Angela said. "When I look back I do think my spending was a bit out of control, maybe that's an understatement. I spend £2000 on my credit cards just by taking a four day shopping weekend holiday in Paris."
Ignoring the Signs of a Debt Timebomb
For Angela, the signs that her spending had become a problem were blatantly obvious but easily ignored. "I had flashes now and again that I might be in trouble," she said, "when the monthly statements came in from credit cards, loans, car payments and rent payments I realised the total amount was nearly 80% of my monthly salary." Instead of seriously assessing the situation Angela simply asked for her credit limits to be extended. "When the lenders began to refuse my extension requests that's when I began to suspect I was in trouble."
Debt and Denial
Angela did what many debtors do; she denied the problem and assessed it in her favour. "I was a single woman who earned a reasonable salary and the things I bought were a necessity," she said, "all my friends spent on credit cards and though nothing of it, so why shouldn't I?" When Angela went on one of her weekend shopping sprees the problem finally hit her in the face. "A salesperson in a designer store I shopped in regularly informed me my lender had ordered them to take back my card. That was so embarrassing and my other cards were over the limit as well."
Assessing a Debt Timebomb
"It all seemed to happen at once, over the course of a week." said Angela, explaining how her personal debt timebomb exploded. "Calls were coming in from different lenders and I kept promising that I would pay them. They kept telling me I couldn't use my cards anymore and my debt would be passed to a debt collection agency." When Angela finally decided to assess her debt situation she couldn't believe it had become so bad. "I sat down with all the monthly statements and it was just a shock. My credit card bills alone came to over £21,000. I admit I broke down and wept when I realised how much debt I was in."
Struggling With Mounting Debt Repayments
"I didn't seek any help at first. I tried to simply keep making minimum payments but I was missing payments regularly." Angela said. The final straw that pushed her to seek professional advice was when her car was repossessed. "A debt collection agency simply appeared and took it away. When I argued with them they said that the car wasn't mine and I had missed too many payments." Angela finally made an appointment with the Citizens Advice Bureau (CAB) to see where her options lay with her spiraling debts.
Seeking a Solution to Serious Debts
"The advice and help I got from the CAB made it clear I had options. I could declare bankruptcy, use an Individual Voluntary Arrangement or try to negotiate with creditors myself." In the end Angela decided to negotiate with her creditors herself. "I know I could have cleared my debts within a year of declaring bankruptcy but I just couldn't face going through that," she said, "four years later and I'm still paying my creditors and have no credit cards or loans. I have a pretty terrible credit record as well so actually obtaining credit is not in the foreseeable future."
Angela's debt problems are by no way uncommon in Britain. Repossessions are on the rise and debt collection agencies are a booming business. Ignoring a mounting debt problem is simply throwing money away on interest payments and charges. Seeking advice from debt help organisations will help keep debt collectors from the door and help the debtor to regain some financial control.
You might also like...