New Dirty Tricks Used by the Debt Collectors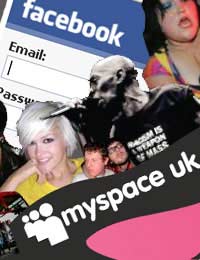 Debt collectors are an inventive bunch and are always coming up with new dirty tricks to find and harass debtors. The latest debt collection trick is to target debtors through their social networking sites.
Is Your New Facebook Friend a Debt Collector?
Social networking sites such as Facebook, Myspace and Twitter are now being used by debt collectors to find and harass debtors. Social networking members who think they are adding a new friend, or follower in the case of Twitter, are in fact permitting debt collectors into their online community. By becoming a friend or follower the debt collectors now have access to another source of debtor information. This is a new dirty trick used by debt collectors that is also designed to harass and shame the debtor.
What Information Can Debt Collectors Pick Up?
The amount of information a debt collector can obtain from a social networking site will depend on the debtor. But it is surprising how much personal information people place on their networking sites. Home and employment addresses, telephone numbers and instant messenger addresses are just some of the details found on these sites. Photographs taken in the debtor's home can show goods that debt collectors would consider sellable assets.
How Can Debt Collectors Access Social Networking Sites?
This is actually the same as debt collectors turning up at debtor's doors and then allowed access into the home. Creditors don't have any rights to enter a debtor's home but allowing them to enter is actually giving permission. If a debt collector requests to be a friend and the networking site user adds them then permission has been granted.
How Do Debt Collectors Use Social Networking Information?
Disreputable debt collectors will go to extreme lengths to harass debtors. If they are willing to telephone debtor's neighbours to obtain information they will think nothing of contacting the debtor's online friends. From the information on the sites they can now telephone and email employers. They can also use personal email addresses and instant messaging to harass the debtor. Debtors have also claimed that debt collectors have posted details of their debts on the networking sites in order to shame the debtors.
Have Many People Been Caught Out By This Trick?
A quick search through debt consumer forums does show that debt collectors are frequently using this trick. There are many debt forums dedicated to this new debt collection method. According to debt experts this method started off in America and was quickly adopted in the UK by disreputable debt collectors. Reputable debt collection agencies are reportedly claiming that they would never resort to this sort of tactic.
How Can Debtors Combat This Debt Collection Harassment?
The easiest way to stop debt collectors becoming a Facebook 'friend' is for users not to add anyone they don't know. Many debtors have been caught out when debt collectors use photographs of very 'attractive' people to arouse the debtor's curiosity. Debt collectors will also send messages claiming to be old friends wishing to catch up. Debtors can report these debt collectors for harassment to the social network owners under the rules of the social networking sites.
Is This Debt Collection Method Illegal
These new debt collection methods are sneaky but as of yet these dirty tricks don't seem to have led to any prosecutions. The debt collection industry has to abide by certain guidelines including the use of truthful and honest business methods. It is likely that this debt collection method does break many rules laid out by the Office of Fair Trading. Debtors who are being harassed in this method should report the debt collection agency to the Office of Fair Trading.
If This Method Breaks the Rules Why Do Collectors Do It?
The simple answer is that disreputable debt collectors do not care about the rules and guidelines. Debt collectors prey on the naivety of the debtor to not report them to officials such as the Office of Fair Trading. In a number of cases the debt collectors involved will simply receive a verbal warning if reported. Disreputable debt collectors simply care about recovering money by any means possible, even if the tactics they use are illegal.
You might also like...