Identifying Your Debt Triggers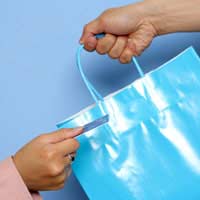 Identifying your debt triggers is one of the best ways to curb your spending habits. In most cases the reasons why people spend on credit cards are emotional rather than logical. Impulse spending can come from a variety of different sources and identifying the reason behind the need to spend could save you debt problems in the future.
Understanding Debt Triggers
Many people who overspend on credit cards are not aware that the problem could be a psychological one. People suffering with debt due to continual impulse buying have many of the same character qualities associated with people addicted to substances such as alcohol. Debt addicts tend to be secretive about their habit, have low self esteem, and at times suffer from a loss of control. When it comes to spending on credit cards it is often an overpowering impulse that is hard to control.
Emotional Debt Triggers
Splurging on credit cards has often been called "retail therapy" and for a great number of people therapy is exactly what it is. The act of spending makes certain individuals feel better about themselves. For some people buying a luxury item on a credit card can bring a momentary rush of happiness and relief. The spender may be treating themselves after a hard day even though they cannot afford the item. Feelings of depression or guilt can often be fleetingly overcome by the pleasure brought about by spending money.
Bargain Hunters
Some people will spend thousands on goods simply because the goods are on sale. This type of spender can fool themselves into thinking that they are actually saving while spending money they don't have. Sales can bring out the impulse buying monster in some people, even if it is only a few pounds or pence off the regular price. In a number of cases these items will never be used but the spender will convince themselves that they have made a saving.
Keeping Up Appearances
Low self esteem can often lead people to overcompensate when it comes to spending. This type of spender sees others as having better clothes, a better car and a better lifestyle than themselves. In order to keep up with the trend they will spend thousands of pounds to improve their own appearance in the hope that this will lead to a better lifestyle. The actual reason behind this type of spending is low self esteem. It's also a case of living beyond their means when it comes to spending money that they don't have.
Guilt and Spending
Guilt is often a big factor when it comes to debt triggers. Taking divorce as an example, parents will often overspend when it comes to their children and themselves after a divorce. This is a classic case of overspending to ease the guilt felt due to the failure of the marriage. It is often the case that traumatic events in a person's life will lead to addictive behaviours such as overspending.
Breaking the Behaviour
One of the largest hurdles when it comes to breaking any addictive behaviour is admitting there is a problem in the first place. In most cases over-spenders will come up with a number of excuses that explain their behaviour to themselves. If you are struggling to make repayments on credit cards and loans, are juggling multiple credit cards or avoiding opening bills then the time has come to face up to the problem.
Seek Expert Help
If you do have a debt problem then you are most definitely not alone. The Citizens Advice Bureau sees over one million people per year with debt problems. Confronting the problem as early as possible is the only way to deal with it. Organisations such as the Citizens Advice and the Consumer Credit Counselling Service will be able to help. These organisations will give free impartial advice and support to people who are struggling with debt problems.
If you can identify the emotional triggers that cause over spending then it may help to curb your credit buying habit. Having the will power to avoid overspending on credit cards will take discipline. Don't feel too bad if you slip up now and again. It will take time and training before the urge to save not spend becomes second nature.
You might also like...