Avoiding the Debt Advice Scammers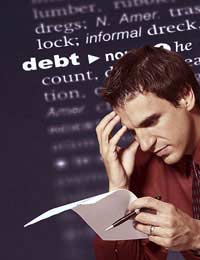 Debt advice scammers have been in business for many years. Organisations dedicated to providing debt advice and help are not always what they appear to be.
Debt Advice Scammers in the UK
Debt advice organisations do look tempting to many debtors. Debt advice scammers offer the chance of having someone else come in and simply take on the burden of a debt problem. Debt advice scammers are well aware of how distressing and worrying debts can be and this is their major selling point. There are many reputable debt advice organisations in the UK; the Citizen's Advice Bureau and the Consumer Credit Counselling Service (CCCS) are two. But UK newspapers and the internet are full of debt advice scammers targeting debtors with offers of easy ways to clear debts.
The Golden Rule to Avoiding Debt Advice Scammers
Debt advice scammers are very adept at using manipulative techniques to entice debtors into using their services. They will offer what looks like easy options to reduce or clear debts with very little involvement from the debtor. One of the major ways to check if a debt advice organisation is reputable is to ask how much this service will cost. Debt help organisations such as the Citizen's Advice and the CCCS will not charge a penny for their help. The main priority for debt advice scammers is to make money from the debtor's problems.
Be Aware of Debt Advice Scammer's Targeting TacticsWhen people do fall into debt it can suddenly seem as if every debt organisation is trying to help them. Email inboxes will suddenly become flooded with offers of easy ways to solve their debt problems. How do these organisations know that a person is having debt problems? People in debt often look online for debt advice and their email addresses are sold to debt advice scammers. Certain debt collection agencies will also sell on details of those in debt including telephone numbers. This is how debt advice scammers can target those who are having debt problems.
Bogus Offers By Debt Advice Scammers
Debt advice scammers will offer plenty of help and charge a fee for providing it. In reality there is nothing a debt advice scammer can do that a debtor cannot do themselves without having to pay a fee. Scammers will often say they can help and then once a fee has been paid they will simply produce a list of legitimate debt help agencies. Scammers may take the step of obtaining a debtor's credit report and contacting debt collection agencies to make an arrangement. This service will come with a fee and the debtor could have undertaken this task without paying a penny.
Taking a Loan to Clear Debts
Debt advice scammers will often offer advice but actually have another priority behind the helpful information. Many scammers will actually offer loans as a way for debtors to clear their outstanding debts. If this is the case the scammers will usually be acting as middle men for high interest loan companies. They will then make a percentage from the loan company plus their fee from the debtor. Debtors should never take high interest loans in order to clear outstanding debts.
Are the Debt Advice Scammers Making Unrealistic Claims?
Reading the debt advice organisation's advertisements is one way to flush out a scammer. Debt advice scammers often make exaggerated claims. Promises of wiping out debts with no more to pay, ever, is a completely unrealistic claim. Statements such as '90% of debts are unenforceable' are simply an enticement to get the debtor to make contact. Debts will never simply be wiped by credit companies and debtors should not fall for these illegal advertising practices.
Points to Remember to Avoid Debt Advice Scammers
There are few points to remember when dealing with debt advice organisations. These will include:
Never pay fees upfront to debt advice agencies
Are the advisors more interested in their fees than the actual debt case?
Never accept offers of high interest loans to clear outstanding debts
Do not accept offers of debt help through unsolicited emails or telephone calls
Always check a debt advisor's qualifications; never assume that 'qualified' means they have a Consumer Credit licence
Financial brokers offering debt help will often try to sell financial products for other companies
Use common sense; don't be fooled by unrealistic claims made by debt advice scammers
Debt advice scammers may sound like the ideal option but they will often add to a debtor's problems, not solve them. People who do have debt problems should contact one of the free debt help organisations such as the Citizens Advice, the National Debt Helpline or the Consumer Credit Counselling service. These organisations will offer advice and even contact debt collectors and credit agencies on behalf of the debtor. They will also not charge a fee for providing these services.
You might also like...