Taking Out a Bank Loan and Managing Your Debts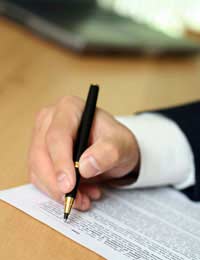 During some point in our lives we will no doubt need some financial assistance in the form of extra cash. The funds may be needed to buy a car, holiday, or home improvements, and often the first point of call is the local bank. Bank loans come in many forms and there are a number of factors to look out for when considering taking out a loan.
Shop Around for the Best Quotes
Many people will simply pop down to their own bank when considering a loan but this will not always guarantee you the best deal. Shopping around for the best deals can take some research and you should widen your options to online lenders. In a number of cases you can find better annual percentage rates (APR) than in the high street banks. Internet lenders have lower overheads than banks and can offer some amazing deals.
Don't Apply, get a Quote
When you apply for a loan you leave a footprint on your credit record, even if you are turned down for the loan. If you have been applying for various loans over a short period of time, then this will show up on your financial records and affect your chances of securing a loan in the future. Asking for a loan quotation should not require any credit checks to be undertaken. Only say yes to a credit check once you have decided on your loan.
Check APR and TAR
The Annual Percentage Rate is the interest figure quoted that will determine how much interest you will be paying on the loan. The APR can be misleading; if you have a poor credit rating then you may qualify for a higher APR rate than figure quoted. Also if you have chosen a variable APR then this may rise over the course of the loan, a fixed APR is always the best option.
A better way in working out the overall cost of your loan will be to ask for the Total Amount Repayable (TAR). The TAR will include charges, fees and your monthly repayments, and will give you a better understanding of how much you are paying in full.
Payment Protection Insurance
When you are apply for a loan you will no doubt be offered Payment Protection Insurance (PPI).The insurance is basically to cover your payments if you cannot meet the repayment schedule due to illness, unemployment or accidents. Make no mistake PPI is expensive and many people will never use such an option. Lenders push PPI because it adds to their profits, and there will be restrictions and clauses written in which may exclude some people such as the self-employed.
Choosing the Best Loan
The decision regarding the loans you can successfully apply for may not be up to you. Your credit rating will go someway to deciding what type of loan the banks or lenders will offer you. If you can, always opt for an unsecured personal loan over a short repayment period. Borrowing more over a longer period of time will rack up how much you pay in the end. So try and borrow the least amount you need over the shortest time span.
Flexible Loans
There are loans that will allow you to take repayment holidays and pay more or less depending on your cash flow. These are known as flexible loans and can be unsecured, meaning you do not have to place a guarantee such as your house or car before qualifying for the loan.
Secured Loans
You can also have a secured loan where you will need some form of guarantee such as equity from your house. But be aware, if you do default on your secured loan by a few payments then banks and lenders will not hesitate in using the courts, and the sale of your house to regain their money. Even though you have supplied security do not be surprised if you find the interest rates are higher than the ones advertised to entice you in. The reason you may be asked for security is that your credit rating may make you a risk to the lenders.
Look out for Penalties
Always check the small print for early repayment penalties. Many people pay off their bank loans early but the law allows lenders to charge a penalty of up to two months of interest on top if you do decide to do this.
Bank loans are a convenient way of raising much needed cash. But in many cases you may find that if you only need a small loan you will be better off using other options such as interest free credit cards. The first and major rule when applying for bank loans is to shop around and get the very best deal that you can.
You might also like...